Episode 3  We Interrupt this Apocalypse
10.12.20 to 10.01.2021
A collaborration between IsolationTV, aemi and Jesse JonesThe Spectre and the Sphere by Jesse Jones was commissioned for Project Arts Centre by Tessa Giblin. Theremin by Lydia Kavina and cinematography by Nicolas Villegas.
The Other North by Jesse Jones was co-commissioned for CCA Derry and Artsonje Center Seoul by Sunjung Kim, Aileen Burns and Johan Lundh. Korean gayageum by Kyungso Park. Korean production by Chong Kyu Kilm and Jun Hong Kim.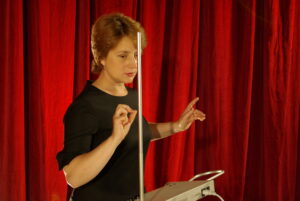 Jesse Jones, The Spectre and The Sphere, 2008, Project Art Centre – image courtesy of the artist
The Spectre and the Sphere, Jesse Jones, 2008, 12 minutes
'Jesse Jones' commissioned 16mm film The Spectre and the Sphere evokes the spectres of ideology and amplifies residual voices that haunt the cultural vessels of history. It examines how the spaces of our popular imagining such as the theatre and the cinema are also containers of historical and political impulses. The Spectre and the Sphere conjures up a particular moment in the early twentieth century through the use of cultural artefacts, imagining the various historical potentialities of the time, and how these residues may be present in our construction of the future.
Jones's adapts the text from Karl Marx's The Communist Manifesto as its script performer by a whispering choir. Shot in the historic Vooruit theatre in Ghent, Belgium (where the Internationale was composed), the film simultaneously conjures up cultural and political histories as a means of reflecting upon contemporary political imaginings and asks was there another future possible.'
(copy sourced from http://irelandatvenice2017.ie/2016/02/22/the-spectre-and-the-sphere-2008/)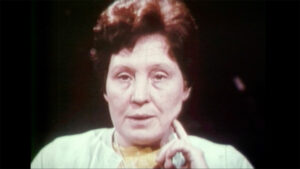 The Steel Shutter, Bill Skinner, 1972
The Steel Shutter, Bill Skinner, 1972, 55 minutes
'An encounter group session filmed in La Jolla, California, involving a cross-section of people from Northern Ireland who discuss their various perspectives on the Troubles. The group is facilitated by Carl Rogers and Bill and Audrey McGaw. A group of mixed-religion people from Northern Ireland went to America as guests of the Centre for the Study of the Human Person, La Jolla, California, and spoke openly about how the conflict has affected their everyday lives.'
(copy sourced from https://www.tcd.ie/irishfilm/showfilm.php?fid=60531)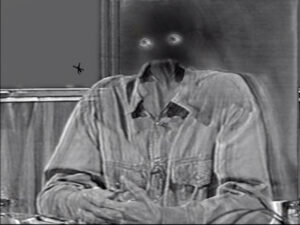 Bonnie Camplin, Cancer, 2003, 4 mins 30 secs, Looped DVD, Image courtesy the Artist and Cabinet, London
Cancer, Bonnie Camplin, 2004, 4 minutes
'Bonnie Camplin's 2004 film, 'Cancer', features a biology professor formally presenting "the FACT of cancer". This "epistemologue" itself becomes matter, cellular tissue; a body corrupted in post-production through video synthesis and chroma-keying; a disruption from within, a cancer of the image, a corruption of fact and a perverse creative proliferation.'
(copy sourced from https://archive.ica.art/sites/default/files/downloads/A_Dying_Artist_guideEWMvkD_0.pdf)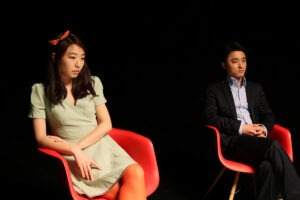 The Other North, dual screen installation, Jesse Jones, 2013, Production image by Jin Hee Kim
The Other North, Jesse Jones, 2013, 60 minutes
'The Other North developed from Jesse Jones' research in 2012 and 2013 in South Korea and the Korean Demilitarised Zone (DMZ), the strip of land that divides the Korean peninsula and acts as a 'buffer' between North and South. Jones' experiences in Korea led to an exploration of archival footage from Northern Ireland dating from the late 1960s to the 1990s. The Other North evolved from research into a film called The Steel Shutter, 1974, which documents a "conflict resolution therapy session" held by American psychologist Carl Rogers in the early 1970s with individuals from various political and socio-economic backgrounds in Northern Ireland. Using transcripts of these therapy sessions as scripts to be performed by actors as verbatim theatre, Jones re-stages the event in Korea, re-enacting the film with eleven Korean actors. The transfer of the historical narrative of Northern Ireland to a Korean context aims to create a Brechtian estrangement; a vacillation between the self and the other. Through its simultaneous presentation of the vernacular and uncanny, The Other North provides an opportunity to consider the effects of cultural, political, and national divisions, and their influence on individuals beyond geographic, political and psychological borders.'
(copy sourced from https://cca-derry-londonderry.org/exhibitions/jesse-jones-the-other-north/)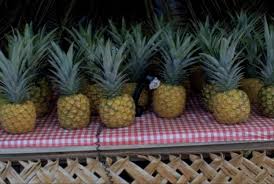 Accent Grave on Ananas, Tamara Henderson, 2013, 3 minutes
Accent Grave on Ananas, Tamara Henderson, 2013, 3 minutes
'Henderson's work emerges from dreams and the movement of their images and experiences into her waking life. In processing these subconscious traces the narratives slip through memories and clichés, desires and trauma. She persistently establishes quotidian objects as near characters before altering them in abrupt or impossible ways: a play of expectation and surprise. The film's succession of events is carefully planned so it can be edited in camera, captured in single shots as if experiencing the dream. In this Surrealist tradition, everyday objects are manipulated by unseen hands and the sequenced juxtaposition of these moments creates a narrative that is at once absurd and highly familiar. These sequences allude to chain reactions, operations carried out with focused concentration to meditate on the banal and uncanny with equal attention, troubling out their esoteric truths.'
(copy sourced from https://letterboxd.com/film/accent-grave-on-ananas/)

David Hall, Tap Piece
Tap Piece, David Hall, 1971, 3 minutes
'Conceived and made specifically for broadcast, Tap Piece was one of seven works that were transmitted by Scottish TV during the Edinburgh Festival. The idea of inserting them as interruptions to regular programmes was crucial and a major influence on their content. That they appeared unannounced, with no titles, was essential.. These transmissions were a surprise, a mystery. No explanations, no excuses. Reactions were various. I viewed one piece in an old gents club. The TV was permanently on but the occupants were oblivious to it, reading newspapers or dozing. When the TV began to fill with water newspapers dropped, the dozing stopped. When the piece finished normal activity was resumed. When announcing to shop assistants and engineers in a local TV shop that another was about to appear they welcomed me in. When it finished I was obliged to leave by the back door. I took these as positive reactions.'
(copy by the artist sourced from http://www.luxonline.org.uk/artists/david_hall/tv_interruptions_(7_tv_pieces)_tap_piece.html)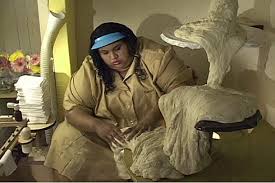 Mika Rottenburg, Dough
Dough, Mika Rottenberg, 2005-2006, 7 minutes
'Labor has been the primary theme of Mika Rottenberg's fantastical video installations. The artist stages and films absurdist assembly lines in which women's bodies are harnessed toward consumer production. In several works, female bodybuilders and contortionists are shown engaged in mindlessly repetitive physical tasks, providing moisture for scented towelettes with their sweat or making maraschino cherries from their clipped fingernails. Dough (2006) depicts a team of women pulling a rope of dough through a series of claustrophobic factory compartments. At the center of the Rube Goldberg–like system, an obese woman kneads and directs the dough. When a bouquet of flowers is placed before her, a chain reaction is set off: the flowers produce allergic tears, which fall to the floor and generate steam, which in turn causes the dough to rise before it is finally packaged. Equating industrial and bodily processes, the journey of the fleshy dough alludes to digestion, excretion, and birth. Dough evinces the influence of 1970s feminist body art and also recalls Matthew Barney's elaborate sets and surreal physical processes. Like Barney, Rottenberg gives sculptural form to her videos; here, the projection appears in a cramped wooden room, its outer supports weighed down by doughy sandbags.'
(copy sourced from https://www.guggenheim.org/artwork/17312)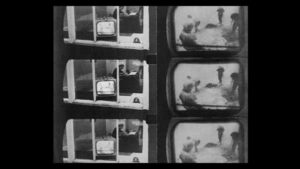 Ian Breakwell, Mike Leggett, One, 1971
One, Ian Breakwell & Mike Leggett, 1971-2003, 15 minutes
'Performance. Original 16mm film made in 1971 with Mike Leggett and digitally reconstructed in 2003. An event at Angela Flowers Gallery in which a group of labourers shovelled earth over the course of an '8-hour day'. On the 2nd floor of the gallery, each man continously shovelled earth onto the adjacent man's mound of earth, while at the same time the Apollo astronauts were digging up rock samples on the surface of the moon. While every TV shop window showed live footage of the activities on the moon, Angela Flowers Gallery was transmitting these activities via CCTV to their street-level window. Gradually through the course of the day, as the all-white gallery space was reduced to a sea of mud, the pictures transmitted from each event became almost indistinguishable from each other…Two tourists: "Das ist die Moon[sic]." "Nien[sic], das ist Kunst."'
(copy sourced from https://lux.org.uk/work/005365-one)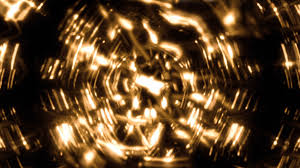 Siegfried A. Fruhauf, Thorax, 2019
THORAX, Siegfried A. Fruhauf, 2019, 8 minutes
'Children are told not to look into the sun, to prevent their childish visual urge to discover from being limited by damaged eyesight. In contrast, THORAX fuels adolescent irrationality and curiosity, as a cinematic wormhole leading behind the images, where the sluggish human eye is subject to a play of dazzling light.
(copy sourced from https://iffr.com/en/2020/films/thorax)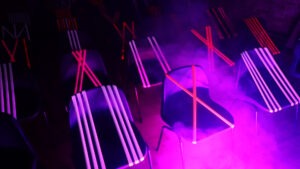 Oisin Byrne, BOUNCER, 2020, HD Video, image courtesy of the artist
Extract from BOUNCER, Oisin Byrne, forthcoming
'Footage from a forthcoming film by Byrne, slated to be screened on Isolation TV in early 2021. The film is based on an essay by Byrne on Intimacy and Disgust, originally written in 2013. The chair detail follows on from Byrne's Depurposed Chairs, 2012, made for the event 'A Blind Eye', curated by Vaari Claffey and Isabel Nolan at the Goethe Institut, Dublin.'
(copy sourced from the artist & Vaari Claffey)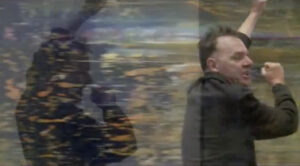 Frank Wasser, Frank/Francis Wasser on Adrian Searle on Gerhard Richter (2012) – Image courtesy of the artist
Frank/Francis Wasser on Adrian Searle on Gerhard Richter, Frank Wasser, 2012, 1 minute
'Frank/Francis Wasser on Adrian Searle on Gerhard Richter is connected to a larger body of student works created by Frank Wasser during his time as a student at NCAD (Dublin, Ireland). Most of the 'edit-pieces' were framed by institutional logos as a means to culturally legitimise the content. Over the past ten years these pieces have in turn gone on to be shown in the institutions that they pertained to be endorsed or created by raising questions around how humour and ultimately discourse is co-opted by institutions such as museums and galleries. Frank/Francis Wasser on Adrian Searle on Gerhard Richter (2012) is an edit of Adrian Searle failing to find the words to explain how the painter Gerhard Richter applies paint to his canvas. This particular edit-piece was made as a response to a wider conversation emerging at the time around the use of language to describe artistic processes such as 'International Art English.''
(copy sourced from the artist)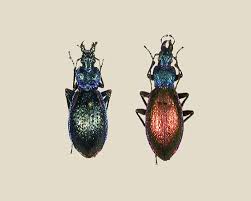 Paul Bush, While Darwin Sleeps, 2004
While Darwin Sleeps, Paul Bush, 2004, 5 minutes
'More than three thousand insects appear in this film each for a single frame. As the colours glow and change across their bodies and wings it is as if the genetic programme of millions of years is taking place in a few minutes. It is a rampant creation that seems to defy the explanations of evolutionists and fundamentalists. It is like a mescalin dream of Charles Darwin's.
The film is inspired by the insect collection of Walter Linsenmaier in the natural history museum of Luzern. As each insect follows the other, frame by frame, they appear to unfurl their antennae, scuttle along, or flap their wings as if trying to escape the pinions which attach them forever in their display cases. Just for a moment the eye is tricked into believing that these dead creatures still live . . .'
(copy sourced from https://lux.org.uk/work/while-darwin-sleeps)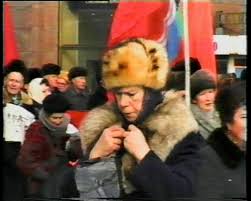 Olga Chernysheva, Marmot, 1999
Marmot, Olga Chernysheva, 1999, 2 minutes
Marmot, a poignant and witty 3-minutes video by Chernysheva, shows an old Stalinist woman, tired of protesting, fallen behind a street demonstration, where her colleagues are protesting against capitalism in Russia. Strangely self-absorbed, she is struggling with indecipherable little stuff in her palm (while Stalin's portrait rests casually under her arm). As the soundtrack, we hear Beethoven's Marmot played slightly out of tune, diligently and naively, by a child.
(copy sourced from https://artmap.com/catherinebastide/exhibition/olga-chernysheva-2007)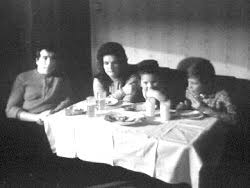 Facing a Family, VALIE EXPORT, 1971, 5 minutesIn Facing a Family, a family is observed watching television. The viewer becomes the object of the family's gaze, as much as the family is the object of the viewer's gaze. Writes Roswitha Mueller, "The Electronic and the Real gazes cross without interacting." Facing a Family was originally broadcast on Austrian Network Television, February 2, 1971.'
(copy sourced from https://www.eai.org/titles/facing-a-family)
Episode 2 A Most Sensitive Nucleus
Curated by Vaari Claffey
Featured Artists: Kevin Atherton, Karl Burke, Çayan's Friends, Fiona Hallinan/Department of Ultimology, Nathalie Koger, Roy Claire Potter, Eva Rothschild, Patrick Staff, Stanislaw Welbel, Stina Wirfelt.
Episode 2 is titled A Most Sensitive Nucleus. Reflecting on ageing and vulnerability, it includes works that demonstrate caring and protection, considering the 'old' as the valuable, (learned, wise, knowing, familiar) and the 'vulnerable' as precious (irreplaceable, requiring protection, delicate).
In this programme we present works that reflect on ageing, on protecting our friends and colleagues who are ill, and on how we balance protection and contact. At times artworks are the complex, vulnerable and precious things that we want to be around. We must protect them, even if they are not always benign.
Some of the works have been made or rethought especially for Isolation TV and many others are older works selected for this context.
'One could of course argue that this is not the real thing, but then—please, anybody—show me this real thing.' Hito Steyerl
'The need for contact is Voracious' we hear from the woman undergoing treatment in Patrick Staff's Weed Killer. Her image flickers in and out of infrared tones that feel both toxic and curative. She doesn't want to return to the world looking like someone who is not closer to death than those she encounters, or so they think. 'I don't want to pass' she says, knowingly hitting us with many meanings of the word.
In Nathalie Koger's What is Exhibited, a young woman hula-hoops in a gallery full of classical sculptures, holding space and performance while navigating the works. Later she flings hoops into the space; her movements are methodical and assured but we don't know where they land.
Kevin Atherton's In Two Minds sees him responding as an older man to a one-sided interview film he made many years earlier – the 'original' unaware that his respondent would be his older self. 'Fifty years ago a slip of the tongue passed more or less unnoticed', says Benjamin. His fifty years are the ones before the popularisation of psychoanalysis and film, between 1886 and 1936. There are 34 years between Atherton's original interview and his response and now the 'two' protagonists are vulnerable in different ways. It raises the question knowing that one is vulnerable make you more or less so?
This work is part of the collection of The Irish Museum of Modern Art.
In Stina Wirfelt's Tame Time an older woman and her dog (the latest in a long line of pets called 'Rosa') navigate the changing landscape of the locale so familiar to her from their walks. 'I know the blocks around my house better than I know my own grandchildren'. While she is on holiday, a wall is built across the streets hurtling her into a raging and slippery argument with time and place, helped by her neighbours and the dog(s). 'We are in the past' she says at one point. For her, the dogs help to 'Tame Time'.
Emily, by Stanislaw Welbel, is the second in a series for Isolation TV. Welbel uses a computer generated voice to read the text of Emily Dickinson's poem 'Because I Would Not Stop for Death', over a techno-disco track. The words run over the bottom of the screen like Karaoke lyrics or news from the stock exchange.
Roy Claire Potter's performed text work Each Day Less Than The Next presents a complex care situation; a man who 'was' violent, a son who is violent, a carer tending to intimate body parts, a sense of menace. Narrated in the first person, it produces a clamour of perspectives, each one both vulnerable and threatening.
Karl Burke's Union documents a quarry which has resulted from mining in the area, now disused. The stillness of the space becomes disrupted by someone hurling rocks into the lake that has formed at the site, causing a flurry of splashes and ripples. After a time the rock-throwing stops and the surface of the water returns to its usual stillness. This work was commissioned for a festival which ran for a few years close to Union Wood. The site of the festival is overgrown and the projection screen is gone.
Our Friend Cayan follows a group of friends as they care for their friend, the filmmaker Çayan Demeril. Accused, with Ertuğrul Mavioğlu, of terrorist propaganda for a film they had made in 2015 called Bakur (North), both were sentenced to 4 years 6 months in prison. On the day the editing of the film finished Çayan's heart stopped for 15 minutes. As a result his speech, sight and mobility have been seriously impeded. He cannot care for himself and so his friends care for him while he fights for his innocence and against the sentence imposed on him.
For Eva Rothschild's 'Boys and Sculpture' she sets a group of schoolchildren into a gallery space filled with her (delicate) sculptures. They are left to navigate the works in the space for over 20 minutes. They begin by looking at the structures, as anyone might. After a time they behave as they are trained to do in a play situation, dismantling the works, playing ballgames, sometimes building works of their own. Eventually, as children are socialised to do, they begin to interact. Meanwhile they destroy the exhibition, turning its remnants into tools to play with each other.
As 'intermissions' Fiona Halinan of the Department of Ultimology has responded with a series of domestically rendered visuals to accompany recordings of threatened or extinct birds, many of whom exist only in captivity. These were first encountered by Isolation TV on a blog called 'ear birding' in a post from 2009. One of them is the whip-poor-will, mentioned in a song by the singer Connie Converse. Converse disappeared in 1974 (aged about 50 in search of a new life). 'I don't stand in the need of company' she sang, 'with everything I see, talking like you'.
Video Production/design Oisin Byrne
Realised with the support of Salzburger Kunstverein and Mary Cremin, (Director, Void Gallery, Derry), The Department of Ultimology, Eoin Dara (DCA Dundee), Golden Pixel, and Kate Strain (Director, Grazer Kunstverein).
Thanks to the artists and to Jesse Jones, Sam Keogh, Michaela Lederer, Marlies Poeschl and Corbin Poguntkte.
Episode 1
Episode 1 of Isolation TV looks at self-isolation and social distancing. It includes work that addresses solidarity in isolation, obsessive creative labour, pressurised family dynamics, obsolescence and imprisonment. Episode 1, curated by Vaari Claffey appears for a limited time only.
It features (in order of appearance) Mariah Garnett, Eduardo Padilha, Köken Ergun, Máiréad McClean, Manuel Graf, Igor Grubić, Stanisław Welbel and Loretta Fahrenholz. Video production and design by Oisín Byrne.
Further episodes and additional programming will be with you shortly.
Conceived and produced by Vaari Claffey, Isolation TV is a platform for showing artists' work, an exhibition-making site and a collaborative para-institution.
Isolation TV is as a response to quarantine and social distancing, during the Covid19 pandemic and consequent closing of Museums and Galleries, forcing the suspension or cancellation of many exhibitions and trapping works of art in empty buildings, unseen. We are very grateful to the artists for letting us show you their work in this way, and to our collaborators and supporters for responding so quickly and imaginatively to the project.
Realized in partnership with the Salzburger Kunstverein, with curatorial collaboration from Séamus Kealy, Director. Forthcoming supporters and collaborators include Grazer Kunstverein and Golden Pixel.
Further information on the programme and artists is available here.
Website production by Brian Mooney.